We interviewed Kazu and Ayane from ILU GRACE, whose song "rhythm" is included in the new update to Lyriko for learning Japanese.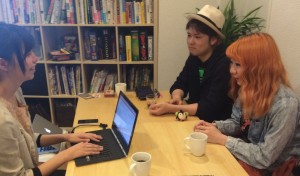 Masako (interviwer), Kazu, and Ayane
– How many people are in your group, and how do you work?
Kazu: Basically, it's just the two of us. Ayane is vocalist and plays the keyboard, Kazu is drummer. Ayane writes the lyrics and melody, and we both do arrangements together. We create the melody and lyrics separately and then combine them, but sometimes they both come out at the same time.
– Where are you from, and how did you meet?
Ayane: I was born in Miyazaki prefecture in Japan.
Kazu: I was born in Los Angeles, and then grew up in Miyazaki, too. We met in Tokyo through music events.
– When did you decide to become musicians?
Ayane: I wanted to be musician when I was really young. I decided I wanted to be a singer when I was in second grade. My father was a jazz guitarist, and I started piano when I was four. Actually, my name, "Ayane," has a Kanji character meaning "sound." I started to go to vocal training school in high school, and sometimes I was on a radio program ran by my teacher.
Kazu: I also started learning piano when I was in fourth grade, and I started drums in middle school. It was really […]